Meet Mahnaz Zoghi
Manual Osteopathy Practitioner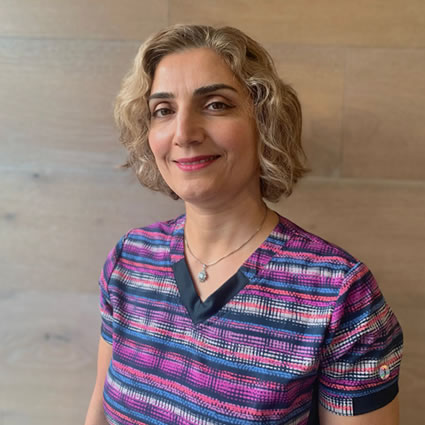 Mahnaz is a graduate of National Academy of Osteopathy in 2016, Prior to her Osteopathic studies she got her Bachelor of science in Midwifery from Shahid Beheshti University of Medical Science.
Being a Manual Osteopathic Practitioner after being a Midwife for more than 10 years matched her interest and needs to help people who suffer from pain. With a good understanding of human anatomy and physiology her journey of being a Manual Osteopathic Practitioner had been easier. Her Knowledge, experience and empathy enable her to help every patient according to their individual needs.
Mahnaz employs a wide variety of Osteopathic modalities, ranging from Joint articulation, Soft-tissue massage, Muscle energy, Visceral to Craniosacral. Applying different modalities and seeing a person as a whole make her treatment more efficient.
For more than 5 years she has been treating a wide range of painful and debilitating disorders (Chronic and Acute) by concentrating on the body's musculoskeletal, nervous, circulatory and lymphatic systems.
Mahnaz is a member of National Manual Osteopathic society ( NMOS) and British Columbia Association of Osteopathic Manual practitioners (BCOMP).

Mahnaz Zoghi, Manual Osteopathy Practitioner | (778) 355-3533