Meet Dr. Marie Perron
Discovering Natural Relief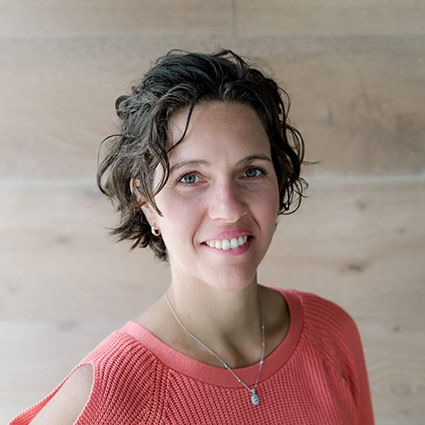 As a young teen, Dr. Marie received chiropractic care for various issues such as headaches and jaw pain. She was highly intrigued by the fact that chiropractic provides healing through manual means. For her, this natural form of health care provided answers, unlike the traditional medical route.
I want everyone to realize the greatness within them!
Obtaining a Chiropractic Education
Though Dr. Marie began chiropractic college in Quebec City, after two years she decided to transfer to Life University in Atlanta because she liked the approach there better. "I learned how the nervous system is the primary controller of the body and how everything is connected." She found it fascinating that, when you allow your nervous system to function properly to its optimal level, your body can start healing and performing. "The idea that you're designed to be strong, healthy, self-healing and self-regulating made a lot of sense to me. So chiropractic was my avenue to make that happen."
In addition to her doctorate, Dr. Marie is certified in the Webster Technique and has taken many classes from the International Chiropractic Pediatric Association. She enjoys working with pregnant and postpartum moms and also likes doing cranial work.
As a mom to three children – Samuel, Amaya and Océane – Dr. Marie is particularly passionate about helping kids and families reach their peak potential. "Why wait until adulthood to start thriving? I feel that if we can get kids and families to be strong and healthy and connect with their body at a young age, they have a greater chance of reaching their optimal potential not only physically but in life." She has seen kids improve their ability to focus and pay attention after receiving chiropractic care as it reduces nerve interference.
"I like to see patients have a lightbulb moment when we not only take care of what they came in with but see them realize that chiropractic can positively impact their life, both emotionally and physically." Dr. Marie finds it gratifying that chiropractic can improve patients' well-being even beyond the initial health issue that they had.
Enjoying an Active Family Life
Dr. Marie, who is married to Dr. Gil, enjoys participating in their children's school activities and is involved in the running of their preschool. She also likes to be outside and loves fun family activities. As a way of giving back to the Port Moody community, she participates in providing informative birth talks and presentations for parents-to-be.
Start Your Better Health Journey
Optimize your health and wellness through safe and natural chiropractic care. Contact Optimum Family Chiropractic today to book an appointment with our team!

Dr. Marie Perron | (778) 355-3533